Region H Healthcare Coalition
Region H healthcare facilities have been meeting together since 2007 with the goal of becoming better prepared to respond to disasters. Region H is consisted of and not limited to Hospitals, Nursing Homes, Assisted Living Facilities, Personal Care Homes, Hospice providers, Home/Health, Dialysis, Fire, EMS/EMA, Law Enforcement, Public Health Departments, Mental Health and more. These facilities have developed strong relationships and have plans to support each other during emergencies.
Region H is made up of 17 Counties:
Baldwin, Bleckley, Dodge, Hancock, Jasper, Johnson, Laurens, Montgomery, Pulaski, Putnam, Telfair, Treutlen, Twiggs, Washington, Wheeler, Wilcox, and Wilkinson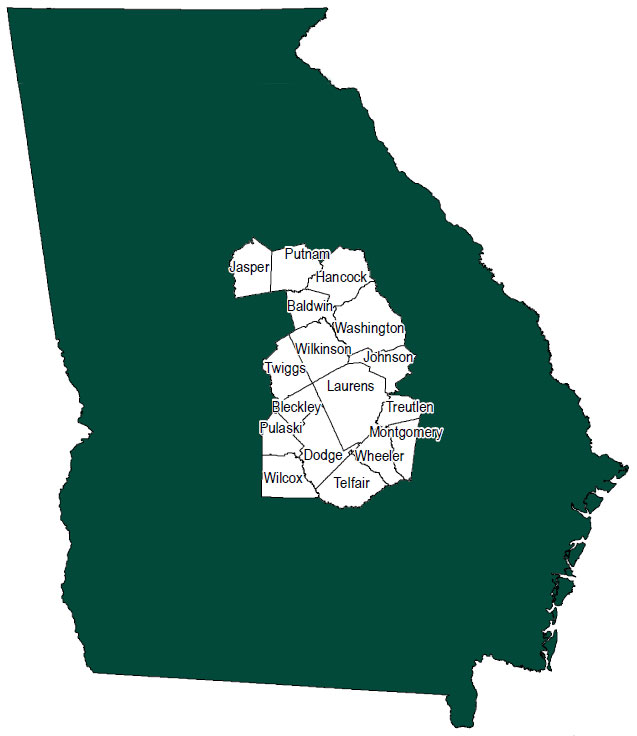 Why is the Region H Healthcare Coalition Important?
Every organization is key in making sure we are prepared. As the lead agency for planning, emergency management is a key member of the coalition. The Region H Healthcare Coalition has become a dynamic collaborative planning network, so that when a disaster hits a community or region we all respond as an entire health care system.
All healthcare organizations, from the largest hospital to a small community health center, will need to work together in a coordinated fashion to effectively respond to the disaster and work towards recovery. Planning together saves lives!
Healthcare organizations make plans for their own facilities. Hospitals have planned with other hospitals, and nursing homes have planned with other nursing homes. During all healthcare emergencies, decisions made by one healthcare organization will impact others. Healthcare organizations planning together will create a more prepared and resilient healthcare Coalition.